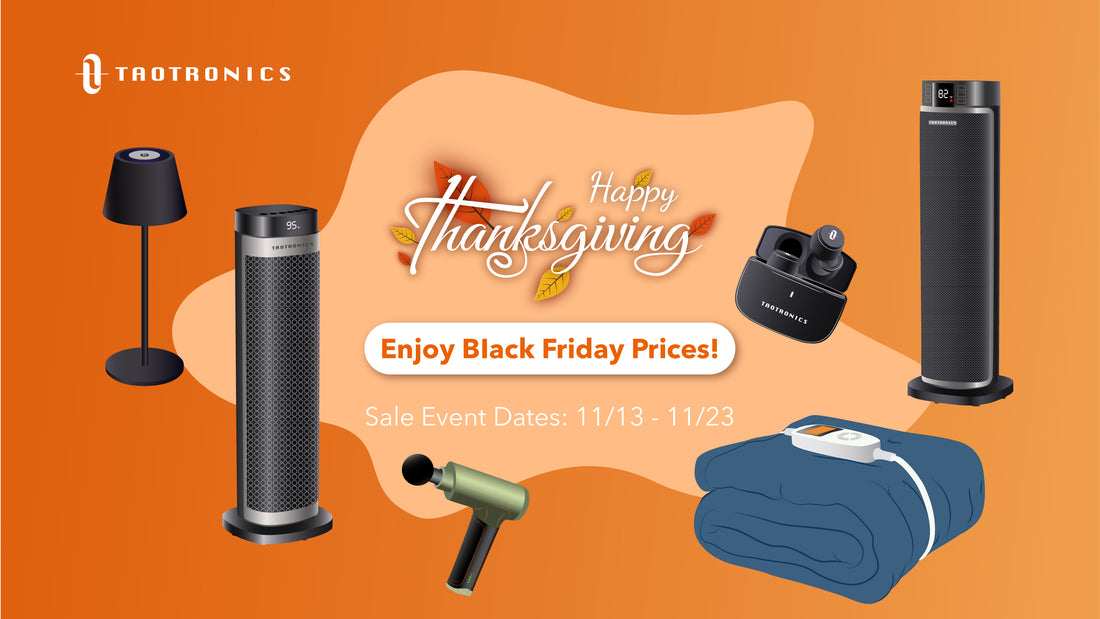 Taotronics Thanksgiving Sale – Everything You Need to Know!
It's that time of the year again when family and friends get together to celebrate Thanksgiving. Whether it's the traditional or unconventional approach that takes you fancy, celebrating this annual holiday could go a lot smoother with the right products on hand!
With our list of selected items, you can be sure to enjoy one of the busiest times of the year while keeping your cool! What's more, our Thanksgiving sale prices are wild – we're talking up to 60% off smart products. Want to find out more? Keep on reading!
When is the Taotronics Thanksgiving Sale?
The Taotronics team is always looking for opportunities to give our customers the best deal in town. What better time than Thanksgiving to offer big discounts on select products? It's the perfect time of the year to show our appreciation as we shower you with blessings and of course, massive savings.
Our sale items guarantee quality and value for your bucks. What's more, we're giving you ample time to find and buy useful products that'll make this year's Thanksgiving ceremony a breeze. Diarize the dates now – the Taotronics Thanksgiving sale starts on November 13th and ends on November 23rd.
Discount Savings for a Budget Friendly Thanksgiving
Hosting a Thanksgiving dinner doesn't come cheap anymore, especially with living costs escalating daily. Which is why we want to give our customers fabulous discount savings of up to 60% on select products.
Taotronics: The Brand and Website to Support our Consumers
At Taotronics we ensure all our devices are innovative with enhanced technology, making them easy to use. Our premium products give you the experience you expect and need from smart appliances.
Our presence in seven countries worldwide including the US and UK allows us to reach and meet our target audience's expectations. Did we mention we've sold over 10 million products to techno customers looking for an easier way to manage their daily lives?
You can trust the Taotronics brand to stay on top of the latest development in smart products that are aesthetically appealing too. From massage guns to wireless earbuds, desk lamps and heaters, you can rely on our brand and website to give you superior quality and experiences.
How Taotronics Products Enhance Thanksgiving Activities
Thanksgiving is a time of sharing blessings and giving thanks for the past year. It's not unusual for family members and friends to travel from afar to get together with loved ones. Here are some great Thanksgiving activities that will keep your guests entertained on the day!
Thanksgiving Games for Adults and Kids
While waiting for the Thanksgiving dinner to be served, keep your guests entertained with fun games. Scavenger hunts, bingo, and trivia are excellent games that'll have adults and kids playing along nicely! Use a desk lamp to provide good lighting while a space heater will keep everyone warm – after all, Thanksgiving can get pretty chilly.
Bring It On With Karaoke
Nothing quite beats a good karaoke, especially when you've got different generations all in one room! Let the grandparents impress the kids with their vocals or have the teenagers belt it out with their favorite songs. When it all gets too much head off to the kitchen with a pair of wireless earbuds!
Who Can Make the Biggest Leaf Pile?
Thanksgiving and fall go hand in hand which also means leaves all over the lawn. Why not take advantage of your guests and get them outdoors to rake up the leaves? Turn it into a fun activity and offer a prize for the biggest pile – how about a massage gun for tired muscles?
End the Evening With Thank You Cards
End a festive Thanksgiving evening with everyone writing a thank you card and sharing what they're grateful for this year. Hang the cards on a tree in the garden or place them in a Thankful Jar before bidding your guests good night as they head off to bed warmed up with an electric blanket.
Taotronics Smart Products for a Happy Thanksgiving
Take advantage of our big discount savings and head over to our site for select products that'll make this year's Thanksgiving a blessing.
1.
 

Taotronics Space Heaters
Efficient heating not only keeps your guests cozy but saves you on costly energy bills too. The Taotronics TT-H003 space heater uses ceramic heating technology to provide effective, immediate, and consistent heat. Remote control features allow you to control the settings for a personalized experience.
The TT-HE007 portable space heater takes only three seconds to heat up a room. It does it quietly too with it running as low as 40dB while heating every corner with its 65⁰ oscillation feature. Adjustable heat levels, a large LED display, and remote control makes this heater easy to operate.
2.
 

Taotronics Sympa LED Desk Lamp
Prevent eye fatigue while playing Thanksgiving games late into the night with the Taotronics SP-DL004 desk lamp that allows you to pick between seven brightness levels. Tilt the head by up to 135⁰ or swivel it by 90⁰ for optimum lighting and never stress about sudden darkness with superior LED bulbs lasting up to 50,000 hours.
Another bonus is the desk lamp's in-built USB output for charging tablets, smartphones, or e-readers. Your guests need never worry about their favorite smart devices running flat over Thanksgiving!
3.
 

Taotronics Wireless Earbuds
Sometimes, you need time out from the noise that comes with hosting guests over the Thanksgiving holiday and Taotronics noise-cancelling ET-BH035 wireless earbuds do just that for you. Immerse yourself in noise-free audio AND the benefit of Active Noise Cancellation technology.
The earbuds' pass-through mode keeps you aware of sounds you need to hear. Take advantage of the bass boost technology PLUS three different modes for improved musical and audio experience for up to six hours on one charge.
4.
 

Taotronics Massage Gun
The Taotronics TT-PCA004 massage gun makes a wonderful Thanksgiving gift, especially this design that comes with six specialty massage heads. It offers 20 different speed levels and up to 12mm stroke length, making it easy to soothe tired muscles.
This whisper-quiet massage gun has a long battery life – up to 10 hours before it needs to be charged again. Weighing only 1.6lb, it's easy to operate with one hand while moving around.
5.
 

Taotronics Heating Blanket
Nothing beats getting into a warm bed on a cold Thanksgiving's night and the Taotronics EJ-BD004 heating electric blanket does the trick! Made with double-sided flannel fleece, the heating blanket feels soft and cosy while the thin wires send electric warmth throughout.
With 10 different heating levels from 68⁰F to 122⁰F and three auto-shut off options, you choose how much and for how long you need to stay warm in your blanket. What's more, the heating pad warms up fast – three seconds to be precise!
Final Thoughts
Let our Taotronics products give you a seamless Thanksgiving experience at affordable prices and massive sale discounts. Don't miss out – head over to our website first thing on November 13th and take advantage of our Thanksgiving sale special prices. You'll be glad you did!
More Blog Articles You May Would Like to Read: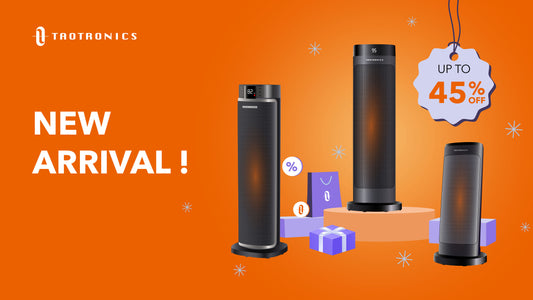 Need a Space Heater? Get Toasty Warm And 45% Off All At Once
There's no denying it. A warm house can be extremely inviting in...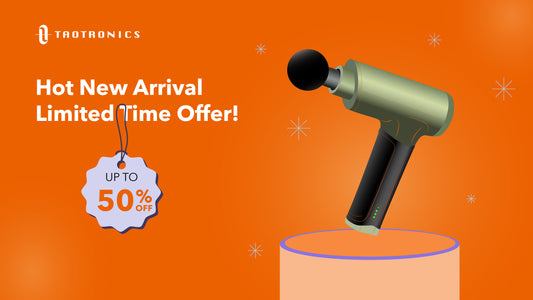 TaoTronics Massage Gun New Release: 50% Off for Ultimate Relaxation
The fitness and well-being industry is experiencing a new fad—massage guns that...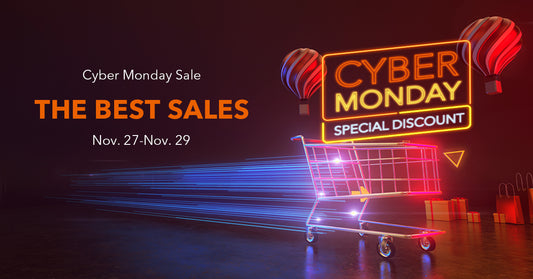 Taotronics Cyber Monday SALE: The Last Chance for Year's Best Deals
Everyone loves a good sale, and many people spend a lot of...