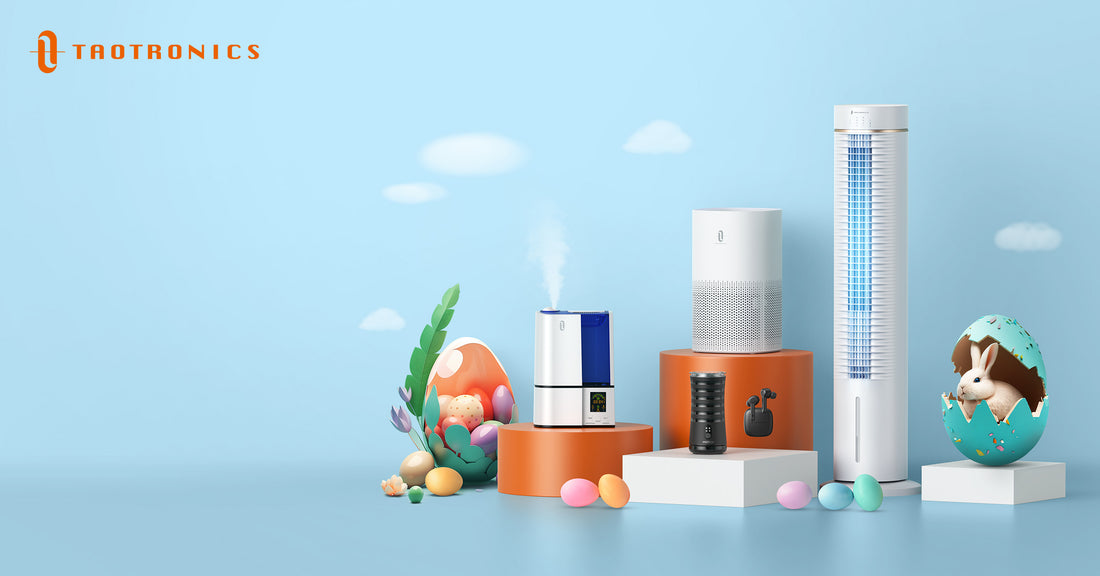 TaoTronics's Spring Sale 2023: Get Ready for A Refreshing Season with 20% Off!
Spring is here and so is Taotronics's Spring Sale! Take a deep breath and spring into this surprising saving – a perfect time for you to stock up on our popular items like humidifiers, inflatable pools, air coolers, air fryers, and more with up to 20% off Code:TTBG20. Our promotion will be available from April 1, 2023 (PST) to April 30, 2023 (PST). Check out our shopping list guide below and make your spring full of joy, comfort, and energy.
6L Ultrasonic Cool Mist Humidifier: HM-AH003
Refresh the indoor air to create a perfectly hydrated oasis with this 6L cool mist humidifier. Boasting a generous capacity of 6L, this ultrasonic humidifier is perfect for humidifying a large space of up to 430ft² and delivers up to 60 hours of continuous mist at a height of 3.28ft, so you don't need to refill frequently or worry about mist dampening your floor. The innovative internal mist tube allows for quiet operation, making it ideal for work, study, rest, and sleep. Plus, the wide opening makes it easy to add water and clean. Shop now and get 20% off Code:TTBG20 this practical humidifier to keep a comfortable humidity level in your room.
Inflatable Play Center: EJ-HF010
Looking to have backyard fun with your kids on warmer days? This inflatable play center is your ideal option. Fitted with a slide and angle-adjustable water sprays, this durable pool brings immense sprinkle fun to playtime. Dual zones with different water depths suit children of different heights. The thoughtfully designed heightened and strengthened handrails ensure safe play for your little ones. Moreover, you can turn the play center into an indoor ball pit to keep your kids entertained anytime. Don't miss your chance to save 20%  on this inflatable play center when you check out today.
3-in-1 Evaporative Air Cooler: TT-TF008
As spring has arrived, it's time to get a powerful cooling solution for the coming hot summer days. The 3-in-1 evaporative air cooler works as a tower fan to circulate air, a humidifier to keep air hydrated, or an evaporative air cooler to transform warm air into a cool breeze by adding water and ice packs to the tank, which greatly meets your every cooling need. Oscillating at 80°, this 45" air cooler with a 19" extra-long air outlet distributes widespread cooling air at a mighty 25ft/s velocity to cool down your space. Shop now with 20% off Code:TTBG20 to embrace refreshing coolness during summertime.
For barbecue enthusiasts, the 8' x 5' volcano grill gazebo is the perfect addition to your backyard or patio area. Made with high-density PU-coated polyester fabric, the canopy top of the grill gazebo is robust and durable to withstand water, UV rays, and flame. To make your grilling effortless and convenient, this grill gazebo comes with five practical tools. The ceiling hook supports up to 20 pounds, so you can hang up your favorite chandelier or other pendant lamps to illuminate the cooking space. You can enjoy a barbecue at night thanks to the inside LED light. The two shelves and multiple hooks keep your grilling items close at hand. It's easy to enjoy drinks with the bottle opener. The steel frame and galvanized steel base ensure overall sturdiness and stability for a long lifespan. Anyone who's looking to experience an enjoyable barbecue can take advantage of this grill gazebo with 20% off Code:TTBG20 .
5-in-1 Air Fryer Oven: TT-AF010
Thinking of making crisp, delicious, and healthy food for your family in a smart way? The TaoTronics 5-in-1 air fryer oven is your ideal choice to elevate your cooking skills! Equipped with 5 cooking functions including air frying, baking, roasting, toasting, and warming, this air fryer oven with 3 knobs efficiently meets your various cooking needs. The large 14.8qt air fryer oven with two racks fits a 9-inch pizza, 4 slices of toast, or 8 chicken wings. Additionally, the multipurpose air fryer oven comes complete with multiple accessories including a frying basket, a baking tray, a crumb tray, a gridiron, a rack clamp, and a magnetic cheat sheet. Get this easy-to-use cooking appliance with 20% off Code:TTBG20 and enjoy tasty and guilt-free meals with your family.
Final Thoughts
Grab the refreshing sale on TaoTronics select products and experience the comfort and convenience you deserve! All markdowns are automatically applied at checkout. Greet the new season with new essentials and take advantage of this limited time offer!
More Blog Articles You May Would Like to Read: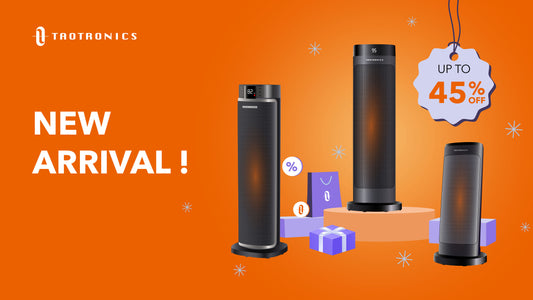 Need a Space Heater? Get Toasty Warm And 45% Off All At Once
There's no denying it. A warm house can be extremely inviting in...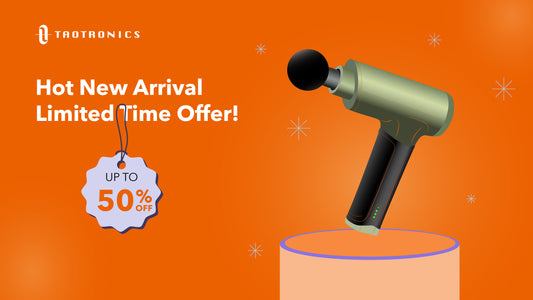 TaoTronics Massage Gun New Release: 50% Off for Ultimate Relaxation
The fitness and well-being industry is experiencing a new fad—massage guns that...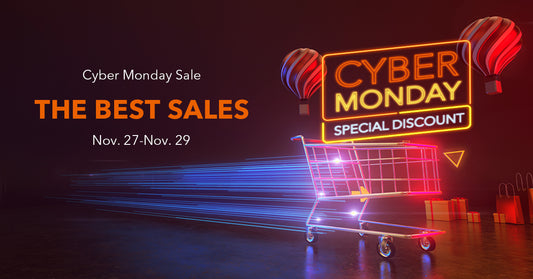 Taotronics Cyber Monday SALE: The Last Chance for Year's Best Deals
Everyone loves a good sale, and many people spend a lot of...